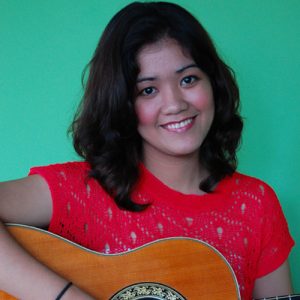 A talent that mesmerizes.  One look at her and the first time you hear her voice, you simply can't move away.  That's the consensus among the Harana community the first time they laid eyes on and heard Joey Ognita belt her first tune eight months ago.  Ballads, love songs, acoustics, or a simple song supported by simple guitar strums – whatever she sings, Joey can make an unforgettable impression on her audience.
Joey's love affair with music started since childhood when she joined church choirs and school music fests.  Later on, she graduated to trying her luck in amateur singing contests in small-town competitions.  It was only a matter of time before she moved on to the bigger playing field of gigs, bars, and events; eventually she became part of a band, WGD, in 2010.
Joey and WGD have become a favourite in the music circuit especially after performing at the 70s Bistro and doing the front act for an Ely Buendia concert.  As part  of the Haranista group of performers, they showed their stuff in the Summer Serenades Concert Series produced by Harana ph., JobsDB and CoWorking Asia; this show has also opened doors for other musical opportunities that enabled her to showcase her talent.
There's no stopping this Business Management student who has a heart for music.  She juggles her classes at the Polytechnic University of the Philippines with her music stints, and an upcoming video of her originally composed single, "Wala Na", is in the works. Joey Ognita is one talent to watch.  Don't take your eyes off her.