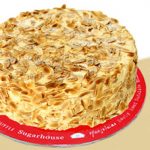 Crunchy on the outside, chewy inside. Four delicious layers of cashew meringue and butter cream topped generously with sliced almonds. Melt-inyour mouth goodness that is truly sans rival.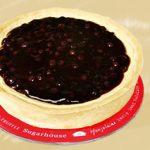 Our rich cream cheese filling in a buttery crust contrasts perfectly with the luscious blueberry topping! No wonder it's a customer favorite!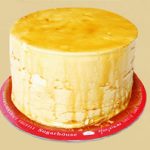 Light and airy baked meringue in caramel syrup. Served with rum custard.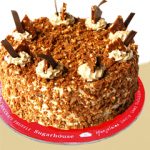 A light chocolate chiffon cake filled with chocolate mousse with a hint of rum. Glazed with extra creamy buttercream then topped with cashew toffee bits and chopped cashew. It's a feast for the eyes and for your tastebuds!
8″ — Php 1,350
Petite — Php 530
Baby — Php 250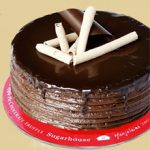 The ultimate chocolate experience. Chocolate chiffon cake filled and iced with chocolate butter cream with a slight tinge of coffee. It's our #1 best selling cake!
8″ — Php 1,250
Petite — Php 395
Baby — Php 160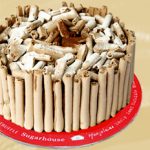 Three layers of vanilla chiffon filled with light othello chocolate mousse playfully covered with chocolate meringue sticks. A favorite among kids and kids at heart!
8″ — Php 950
Petite — Php 550
Baby — Php 230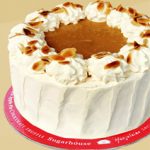 Our customers love our version, saying it has just the right sweetness. This very light vanilla chiffon is filled and topped with a creamy caramel filling, then covered with whipped cream and sprinkled with almond slices.
8″ — Php 1,450
Baby — Php 220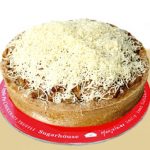 When it comes to apple pie, the Sugarhouse French Apple Pie is the best in town! Chunks of fresh apples mixed with butter, sugar and cinnamon, piled high on a butter crust, topped with grated cheese and served with whipped cream, It's even better when taken warm!
8″ — Php 1,950
Petite — Php 750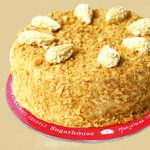 Light and sweet. Vanilla chiffon filled with light butter cream then abundantly sprinkled with honey crunch.
8″ — Php 1,300
Petite — Php 450
Baby — Php 175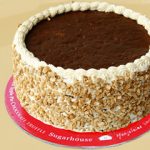 It's a lighter, chocolate version of the sans rival. Each of the four layers of meringue is brushed with chocolate then held together with whipped cream, topped with more chocolate and garnished with chopped cashew. Our Marjolaine is in a class of its own.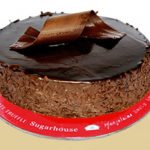 Moist chocolate cake filled and iced with dark chocolate icing. It's at its yummiest when heated before serving, with the warm, fudgy icing oozing down the sides.
8″ — Php 850
Petite — Php 360
Baby — Php 140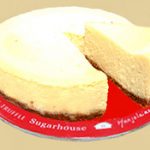 The New Gold Standard in cheesecakes, against which all other cheesecakes will be compared. Velvety smooth and creamy with a delicious graham crust, the way a cheesecake should be.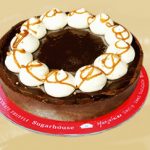 The name comes from turtle candies which contain caramel, chocolate, and nuts and are made in the shape of turtles! The Sugarhouse version has a yummy chocolate crust filled with creamy chocolate mousse, sweet butterscotch, and crunchy walnuts. It's finished with a chocolate glaze and topped with whipped cream!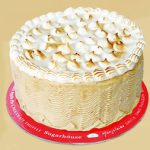 Layers of vanilla chiffon mocha mousse and crunchy meringue hugged by coffee buttercream. The sweetness of this cake is countered by its mocha filling and coffee buttercream icing.